Bloody Colors Tattoo Studios
Tattoos sind im besten Falle immer eine Entscheidung fürs Leben. Wir sorgen dafür, dass Du Deine Tattoos auch mit Stolz tragen kannst!
In unseren BC Tattoo Studios in Berlin und Stuttgart sind unterschiedliche Tattoo- Künstler auf höchstem Niveau tätig. Als aktives Mitglied im Bundesverband Tattoo betrachten wir Hygiene nicht als lästiges muss, sondern als absolute Grundvoraussetzung für unsere Arbeit. Egal ob Du vor Deinem ersten Tattoo stehst oder bereits ein alter "Tätowierhase" bist, in unseren Tattoostudios in Berlin und Stuttgart kannst Du zwischen erfahrenen Künstlern und unterschiedlichen Stilrichtungen wählen, um Deine perfekte Vorstellung eines Tattoos verwirklichen zu können. Wir freuen uns auf Deine Anfrage und Deinen Besuch vor Ort!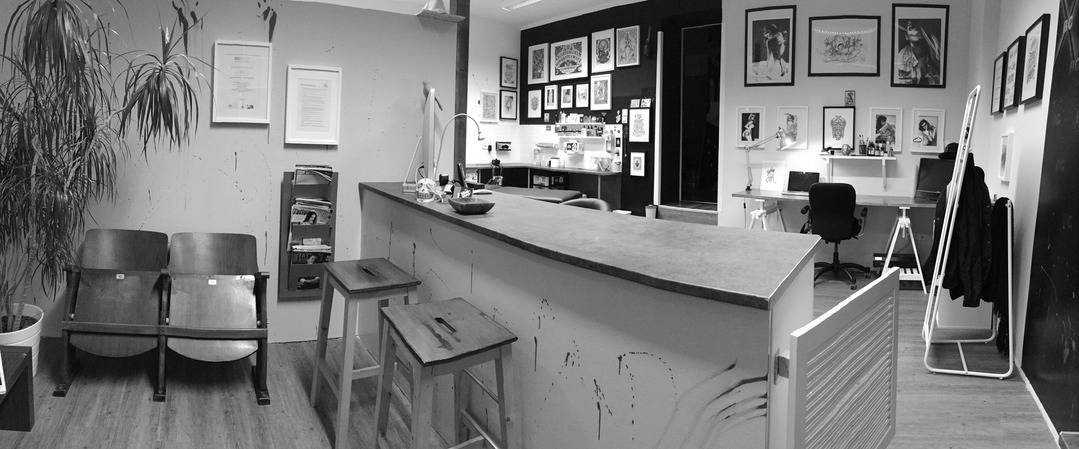 BEWERTUNGEN – BC BERLIN
Very friendly and professional staff. I had great advice and consultation from Daniel beforehand. Very clean and hygienic. I would definitely recommend.
Heute war es endlich mal wieder Zeit für ein neues Tattoo. Ich hatte schon im Vorfeld sehr netten Kontakt mit Daniel, welcher mir mit Rat und Tat super zur Seite stand. Auch das wichtige Thema Hygiene, wird absolut groß geschrieben ! Meine Idee wurde professionell umgesetzt und es war definitiv nicht das letzte Mal in diesem Studio. Daniel macht von Anfang bis Ende einen Hammer Job! Wenn Tattoo, dann bei Bloody Colors Tattoo!!!
Was soll ich sagen? Komme gerade raus und kann es mehr als nur empfehlen, es war für mich sehr professionell, locker und einfach cool. Ich werde mir definitiv mehr stechen lassen, dazu war es mit dem Termin einfach und man bezahlt keinen Kleinwagen.
Danke Daniel! ;D
Bewertungen – BC Stuttgart
Best tattoo shop in Stuttgart! Very welcoming environment. The staff was extremely helpful. I had Kary and he was always giving it his all on my tattoo (took 4 sessions). Whenever I am in Stuttgart I will be coming back here again.
Thanks Kary for my Brilliant tattoo, was tough six and half hours but so worth it 😍 , you made sure😄 I was comfortable and you took great care and the details are so perfect when you compare them with the portrait of my bulldog ☺️,. Love it great job🤗.
Couldn't ask for a better artist ♠️♠️
From the second I walked in I knew I was welcome. A good group of guys who all spoke English well and were patient and inviting. I showed them what I wanted and was matched with an artist that happened to be there at the desk. Kary walked me through what we could do and was very informative. They had a cancellation, so I was in the chair the very next day . 4 hours and we were finished. Great product, great atmosphere, and great folks. Kary did a great job, and impressed not only me, but all my friends. Will be coming back!